Hair material is the most important factor to affect makeup brush price, the more expensive the hair is, the more expensive the makeup brush.

To custom makeup brushes within target price, you should know something about the brush hair, even the same type brush hair has several grades, so the brush price will be different too.

Goat hair, the most popular natural hair for makeup brushes, has the following grades:
►Top Grade: Xi Guang Feng (XGF) Goat Hair- from Male goat chest, the finest soft hairs. So, its soft like squirrel.Because of that it has a rare material, and it is very expensive. Acquisition is difficult.

►2nd Grade: Zhong Guang Feng (ZGF) Goat Hair- from goat chest-long, thin, and soft. It is ideal for various brushes such as a powder brush, a finishing brush, a blush brush, a highlight brush, and an eye shadow brush.

►3rd Grade: Bai Jian Feng (BJF) Goat Hair – from shoulder and forefoot side, it has moderate elasticity and durability.

►4th Grade: Huang Jian Feng (HJF) Goat Hair – from Shoulder, short and thin, has a nice texture, elasticity and coloration. Particularly good for a blush brush.

►5th Grade: T Short Feng Goat Hair (2#)- It is from the goat back and the both sides of their belly;

►6th Grade: #0 Goat Hair - There are a little tip with hair;

►7th Grade: Ordinary Goat Hair - It is without tip, and it feels that the tip of each hair is cut by knife;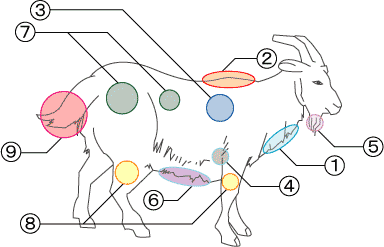 To custom makeup brushes with goat hair, customers should get more knowledge on the brush material. In case of any cheating from bad makeup brush suppliers.

Having any concern or question, please do not hesitate to contact us. We are professional Chinese makeup brush manufacturer with more than 15 years' experience in makeup brush production, and will offer high quality makeup brushes, professional service and affordable price to support your brand development.