By imitating animal hair cuticle, MCF is not only soft and elastic, but also good at picking up desired amount of products.The crystallization structure helps with powder pick up ; the crystallization in order makes the powder released uniformly . Users can get perfect makeup by MCF makeup brushes.

The advantages of MCF:
►
Performance
Superior performance on powder pick up and liquid foundation absorbance.
►
Price Fluctuations
No price fluctuations, as with animal hair supply. No impact by natural environment
►
Manufacture
Manufacturing process is streamlined and more reliable than animal hair.
More stable quality,Consistent supply,Less loss during production process
►
Supply Cost
The supply cost of MCF sits between animal hair (high cost) and PBT (low cost).
MCF vs normal PBT fibers
►
Pick up performance:
•The unique crystallized structure of MCF creates uneven texture surface to allow more powder pick up and liquid absorbent.
•Normal PBT synthetic hair has smooth surface which make it uneasy to pick up powder and absorb liquid by itself.

►
MCF fibers VS normal PBT hair under optical microscope:


►
Shape:
MCF:The 3-section fiber structure with the unique neck design achieve incredible shape,the creative design between point and surface brings perfect fit of peak and skin.




The micron crystallized structure of MCF is quite in order. The pressure on the fiber can be uniformly distributed to avoid breaking and falling off.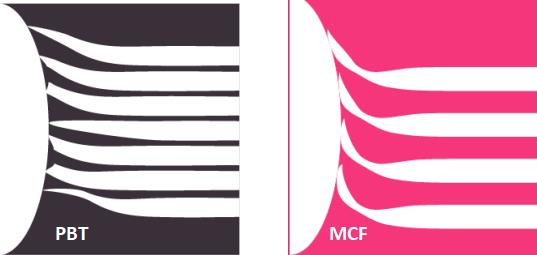 Two product lines for different brushes:
►
Liquid product line
Liquid brush is mainly for liquid, pasty cosmetic use, requiring relatively sparse crystal surface structure to improve the toughness of the brush and uniform coverage in use.
Straight fiber is the main products which is suitable for making the following cosmetic brushes:
Eyeline brush,Foundation Brush ,Lip Brush,Eye shadow brush

►
Powder brush filaments
Powder brush is mainly cooperating with solid powder cosmetics, requiring relatively dense crystal surface structure to improve the gripping and powder release properties of brushes.
Crimp filaments are the main products which are suitable for making the following cosmetic brushes:
Powder brush, Blush brush, Eyeshadow brush, Surplus brush

Welcome to custom makeup brush OEM with private label from us, we will offer high quality, professional service and affordable price to support your brand development.