Ever since Matthew Waithesmith, the former senior vice president of MAC Cosmetics founded Artis, makeup experts have been flocking to its oval makeup brushes, which look like a really chic cross between a hair brush and a spoon.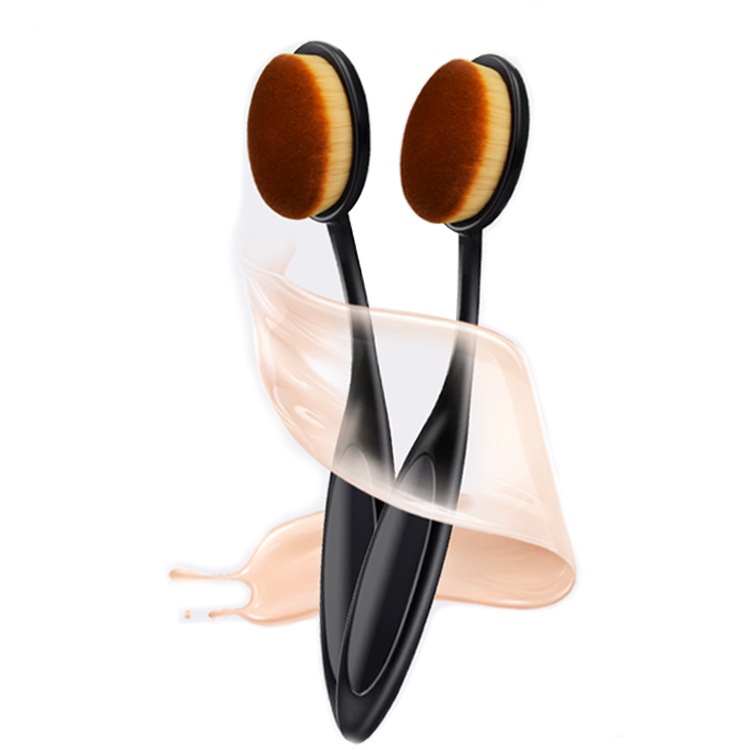 Oval makeup brushes feature soft, tightly packed fibers that are designed to help keep product on the top of the brush instead of getting pushed into it. This results in a more controlled application and an evenly distributed finish. The handles are ergonomic and weight-balanced so the brush is optimized for self-application versus makeup artist application. Overall, oval makeup brushes make it easy to blend and waste less product.

The following are the benefits of oval makeup brushes (chinese makeup brush manufacturers usually call them Toothbrush-shape makeup brushes)
1. They're smoothing.
Oval brushes are made with hundreds of thousands of fibers (far more than typical brushes), that make for super-smooth applying and blending. The oval shape perfectly fits the contours of the face and gives the most effective blend out of all shape. Oval brushes can not only help create an airbrush-like finish, but also keep your face free of any harsh lines,and make the makeup look like a second skin.

2. They're multifunctional.
Oval brushes are most well known for their use with base products, like foundation. But, they can be used with almost all of your favorite products, including moisturizer. They can instantly correct any issue,the density texture brilliantly blur any imperfections, and they work equally well with liquids and powders.

3. They're efficient.
The sheer number of fibers in oval brushes, along with the uniform length and surface area makes it so product, like powders, stays right where it should be on the brush (without settling into the bottom), and can be distributed evenly on your face.you'll not only get a more even final look, but also use less product, and save more money in the long run. And, it makes the whole application process more efficient, time-wise. Oval brushes can get the application done faster, like spreading foundation on smoothly and quickly.

4. They're built for self-application.
Most of us don't have personal makeup artists on hand to beautify us on a daily basis, which is why the design of oval brushes is so great. Everything from the curve of the handle to the angle and alignment of the brush and fibers, is designed to give you more control and a better application when self-applying your makeup.

Artis brushes are the most well-known oval brushes, after all, they were the first. But the price is rather high, the smallest cheek brush from Artis costs $60. If you aim to custom oval makeup brushes and OEM oval makeup brushes with your private label, please feel free to contact us. We are professional Chinese makeup brush manufacturer with more than 15 years' experience in makeup brush production, and will offer high quality oval makeup brushes, professional service and affordable price to support your brand development.